INLET YOGA – 200 HOUR TEACHER TRAINING
Inlet Yoga Teacher training is ideal for experienced students who would like to deepen their yoga practice and/or aspiring yoga teachers.
While many teacher trainings focus on one specific style of yoga this training provides diversity by introducing Ashtanga, Vinyasa, and Yoga For Special Populations. This is a well rounded program that covers the core principles of yoga practice, teaching asana and understanding the philosophy of the Eight Limbed Path and Ayurveda, the sister science  of Yoga.
Topics include:
Asana (movement and postures)
Pranayama (breath work)
Meditation
Anatomy and physiology of yoga
Yoga philosophy (Yoga Sutras and Bhagavad Gita )
Ayurveda
The Business of Yoga
Community Service and Leadership
Students who successfully complete all the requirements of the 200 hour training will receive a certificate which they can use to register with Yoga Alliance at the RYT 200 level.
Our training is offered 1 weekend a month over 6 months.
Hours:
Friday: 6:00 pm – 9:00 pm
Saturday: 9:00 am – 6:00 pm
Sunday: 9:00 am – 6:00 pm
Additionally you will be required to participate in monthly weekend workshops and weekly class practices and observations.
Dates:
November 9-11, 2018
December 7-9, 2018
January 11-13, 2019
February 8-10, 2019
March 8-10, 2019
April 12-14, 2019
Tuition:
$2,800 – [a payment plan is available]. A $250.00 non-refundable deposit application fee is due with your application.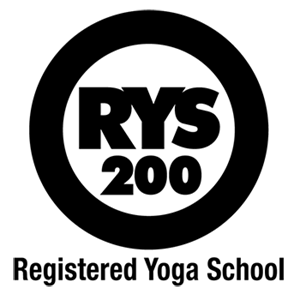 Required Book List: (all titles are available on Amazon.com)
Teaching Yoga: Essential Foundation and Techniques by Mark Stephens
David Swenson Ashtanga Yoga – the Practice Manual by David Swenson
Functional Anatomy of Yoga by David Keil
Beyond Power Yoga by Beryl Bender Birch
The Yoga Sutras of Patanjali by Swami Satchidananda
Yoga as Medicine by Timothy McCall
Yoga and Ayurveda by David Frawley
Questions? Contact Maribeth for more information and to request an application at (843)655-6272.