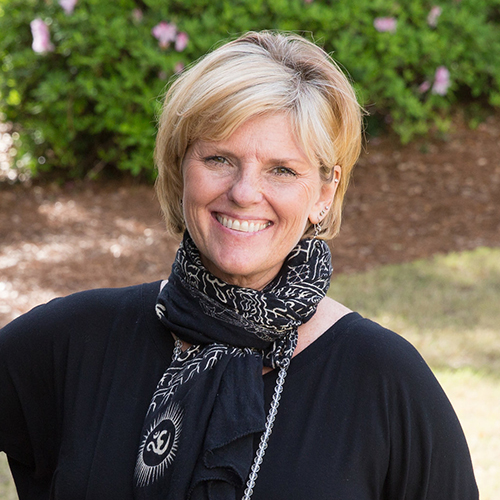 Maribeth MacKenzie
As the owner of Inlet Yoga, I would like to personally welcome you to the mat.  I created Inlet Yoga as a space where every BODY is welcome to breathe and move.
My journey to the mat started over 20 years ago while training for my first biathlon. I knew right then and there that this was something amazing and it would change my life. In yoga there are no expectations, no comparisons, no judgments and everyone is welcomed no matter what their physical background or age. 
As a certified Yoga Therapist, I'm trained to work one-on-one or in groups with clients that might feel challenged in a typical yoga class.  As an Ayurveda Practitioner, one of my greatest joys is helping others create healthy lifestyles that facilitate their happiest healthy and an unbounded sense of radical well-being.
The Yoga lifestyle begins with a dedication to building a practice on and off the mat as taught by the eight limb path. With these tools in place the transformations begin. When someone overcomes a fear, when someone realizes the endless capacity within themselves to be the change, when some has a moment of clarity even for just a moment…then I feel I am doing my work to the best of my capacity.
I am grateful for each and every student who has blessed me with the opportunity to learn from them and to do what I love and who has helped me along my path.
 Feel free to contact me at: [email protected]com
Certification:  E-RYT 500,  1000 Hours The Hard and The Soft Yoga Institute
Favorite Class to Teach:  Yin Yasa
Favorite Posture:  Warrior II
Hobbies: spending time with my friends, family and kitties, relaxing on the beach, teaching yoga, practicing yoga, learning about yoga, living my yoga every dang day.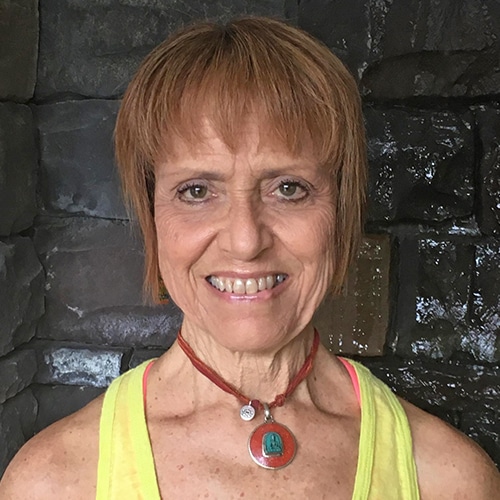 AnnaMarie Guzzi
I like to believe that I found yoga at 49 years old, but in reality, yoga found me, yoga saved my life, and yoga continues to be the guiding force and meaning of my life. My journey began in Ashtanga, a practice that allowed me to burn through toxins on every level. The path has continued through a Hatha training that opened the doorway into spiritual exploration, Buddhist studies, certifications in Yin, Restorative Yoga, and Mindfulness Meditation.  
At the young age of 67, I acknowledge and honor all the mature yogis like myself who bravely enter the rooms with self-acceptance and awareness of what a true yoga practice looks like, feels like, and how it impacts every moment, every relationship, and every interaction.
Certification: E-YRT 500
Favorite class to teach: Yin
Favorite posture: Adho Mukha Svanasana (Downward-Facing Dog)
Hobbies: Knitting, Traveling, Reading, Spending times with my friends and family.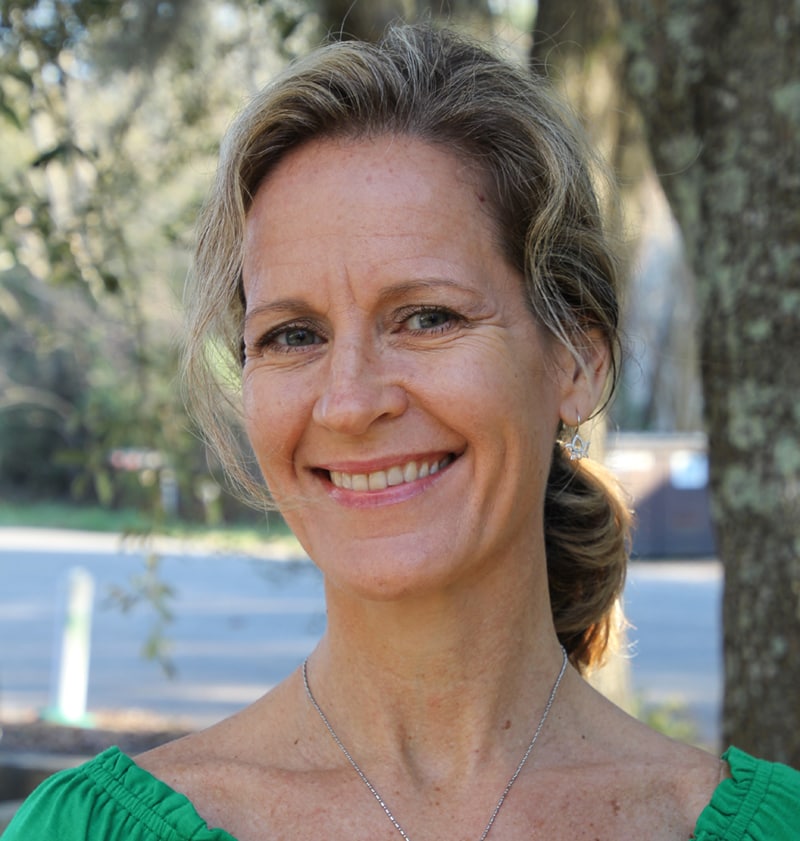 Robyn Jones
I am a native of Myrtle Beach. As a true southern family girl, I've never met a stranger, and I'm blessed to call myself a Christian, wife, mother, grandmother, daughter, sister, friend and grateful yogi. My career path has been working to help people feel better, live better and to do better. I've had the opportunity to serve as a vacation planner, professional organizer, and a realtor. My life long interest in health, nutrition, and exercise led me to try yoga in 2014.
After winning the 30-day yoga challenge, I fell in love with the mind, body, and soul experience. Six months later I signed up for 200-hour teacher training and by October 2015 I was facilitating my first restorative yoga class. I love teaching and practicing different modalities of yoga. It doesn't matter how I am feeling physically, emotionally, or spiritually — yoga grounds e, improves my awareness, and connects me with my higher power. Sharing the gift of yoga is my passion, I hope to see you on the mat.
Certification: RYT 500
Favorite class to teach: Vinyasa
Favorite Posture: Paschimottanasana (Seated Forward Fold)
Hobbies: Watching movies, listening to music, reading, cooking, writing, working with children and painting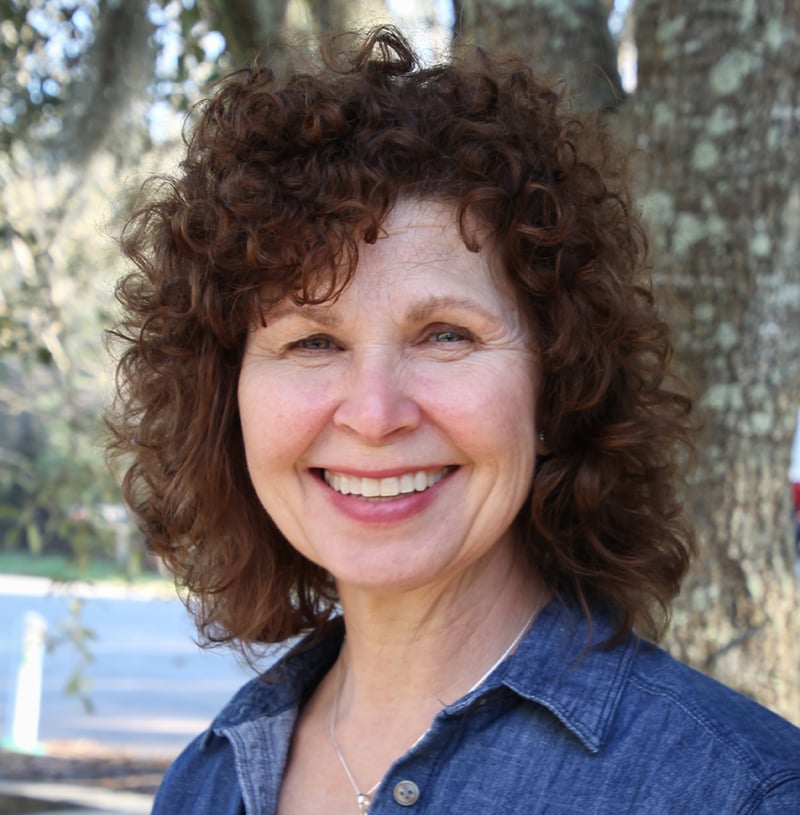 Melody Podraza
Like many people, until I attended my first yoga class, I thought yoga was just a type of exercise in which the focus is on getting a good "stretch." And while yes, you can get that good "stretch," yoga is so much more! The depth of yoga goes to the physical and beyond.
As a practicing psychotherapist with over 30 years of helping people get "unstuck" from problems, I recognized in that first class how powerfully healing yoga is for the body, mind, and soul. Yoga offers a method, a practice, for us to do this…and it's one that is available to every body.
Certifications: RYT 500
Favorite class to teach: Gentle
Favorite Posture:  King Dancer
Hobbies:  Sharing good food (cooking or dining out) and conversation. Traveling, reading and painting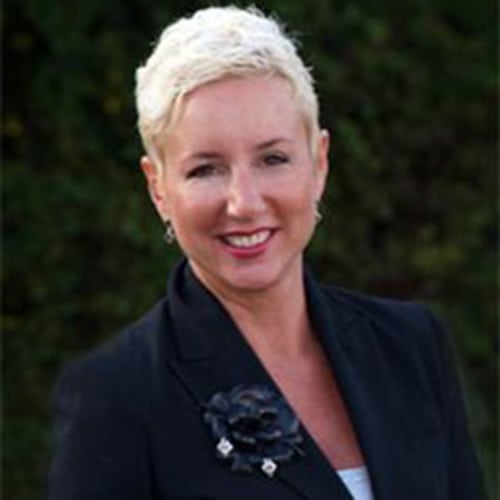 Maura Utley
I became interested in yoga as a way to prevent injuries and become more fit. After years of teaching step classes and training with weights, I started experiencing issues with my back and knees. With a consistent practice, my aches pains started to subside. I wasn't prepared for was the metaphysical, personal and spiritual growth that happens as one's practice deepens.
Yoga totally changed my life – and my family's life– for the better, and I am deeply grateful. To this day what I find most inspiring is watching others around me experience the same transformation regardless of age, fitness level, affliction, or physical ability. This transformation is unlike anything I have ever experienced through a traditional exercise class. Life just got better.
Certifications: E-RYT 500
Favorite class to teach: Vinyasa
Hobbies: Spending time with my son Eugene and husband Mark, weight-training, cooking, designing, painting, drawing, art, reading yoga books
Denise Vereen
I grew up in central Pennsylvania and moved to South Carolina after graduating from college with a degree in Heath/PE. After years of participating in various physical activities, I attended my first yoga class in January 2015 because I was frequently sore after working out and was beginning to have issues with my hips and knees. I thought yoga (stretching) would help alleviate soreness. I loved yoga and I was hooked after just one class.
Yoga is much more than stretching and physical exercise; it's a lifestyle that encourages self-reflection and growth in all aspects of one's being. Through yoga, I no longer maintain the "no pain, no gain" philosophy I embraced for years. I am more compassionate with myself and others. I am blessed to be on this journey and excited to share my passion for yoga with others seeking harmony in body and mind through breath and movement.
Certification: RYT 500
Favorite class to teach: Ashtanga influenced
Favorite Posture: Adho Mukha Svanasana (Downward-Facing Dog)
Hobbies: Yoga, reading, biking, gardening, cooking, beach, and water sports