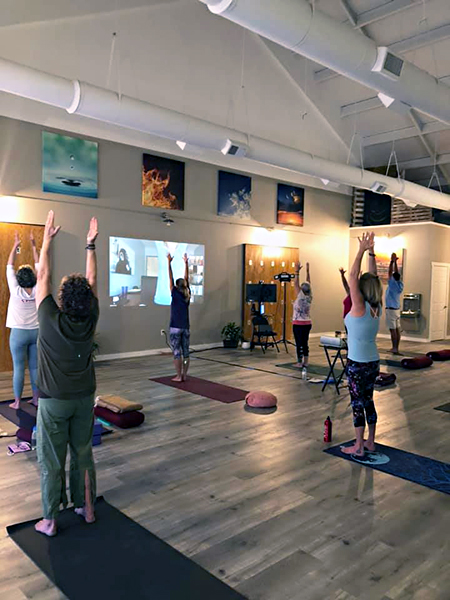 Join us in the studio.
You must pre-register and pre-pay for all classes – NO WALK-INS ALLOWED AT THIS TIME
Please make sure to follow all safety protocols outlined below
Please leave all unnecessary items safely locked in your car
Please observe social distancing by setting up using the stickers on the floor
There will be no props or loaner mats available
We will not be offering any hands on assists
All students must sign our new waiver prior to your first class. Please register for class on MindBody to sign electronically.
Due to the limited number of spots in class, you must cancel at least 1 hour prior to the start of class to avoid a cancellation fee. If you sign up for a studio class and do not cancel or attend,  you will be charged a $10 cancellation fee (this includes Yoga Club members and staff – NO EXCEPTIONS!)
ZOOM classes are virtual and STUDIO classes are in the studio. Please sign up for the class you wish to attend.
ZOOM classes:
Continue to sign up for ZOOM classes on MindBody.
You will receive a link prior to class using the same email address on your MindBody profile
Be sure to check your spam email folder if you do not see your email
You can use your class card or membership to register
HOW TO ENTER THE STUDIO – SAFETY PROTOCOLS:
You must pre-register and pre-pay for all classes – NO WALK-INS ARE ALLOWED AT THIS TIME
Each class will open doors 15 minutes prior to class
We do not accept payment at the studio, pre-payment online is required
Due to the limited number of students allowed in the studio you must cancel at least 1 hour prior to class time start to avoid a $10 cancellation fee. There are no refunds for "late cancel".  You have a window of 1 hour to cancel class with no penalty
To help support our staff and students, we require face masks for EVERYONE as you enter the studio and make your way to your mat. You may choose to take the mask off during class, but it must be put back on prior to departing your mat. PLEASE be sure to BYOM (bring your own mask)
As you enter the practice room, please move to the furthest away available spot and place your mat down at the designated stickers. Please remain on your mat until the class ends
No physical touch of any kind including hands-on or physical adjustments will be made
When class ends, please keep the 6 feet distance (in reverse order: closest to door first) to leave
For your first visit…regardless of if you ever have been to the studio, you are required to sign an updated liability waiver. You cannot take class without signing this waiver.

WHAT WE ARE DOING FOR YOUR SAFETY:
Wearing masks in common areas
Providing hand sanitizer throughout the studio for your use
We have installed hands-free faucets and soap dispensers in the bathrooms
We have purchased medical quality air purifiers for the studio and massage room
Implementing studio cleaning protocols after every in studio class