Join us and support an amazing cause.
This Thanksgiving join Inlet Yoga as we participate in the Give Back Yoga Project.
An all level classes will be offered Thanksgiving morning:
Thursday, November 22nd from 9:30 am – 10:30 am
All tax-deductible donations support Give Back Yoga's mission of bringing the therapeutic benefits of yoga to those who are vulnerable – helping people overcome addiction and eating disorders, reducing stress and anxiety of veterans and victims of trauma, increasing survival rates for cancer patients and more.
Join us in raising awareness and making change in the lives of those who can benefit most.
EVERY DOLLAR COUNTS.
$25 can fund a yoga toolkit for a veteran.
$75 can fund a class & free practice guides for 2 cancer survivors.
$108 can fund 10 mats for residential eating disorder recovery programs.
$350 can fund seven yoga classes in a State Prison or County Jail.
$1008 can fund five months of classes in an addiction treatment center.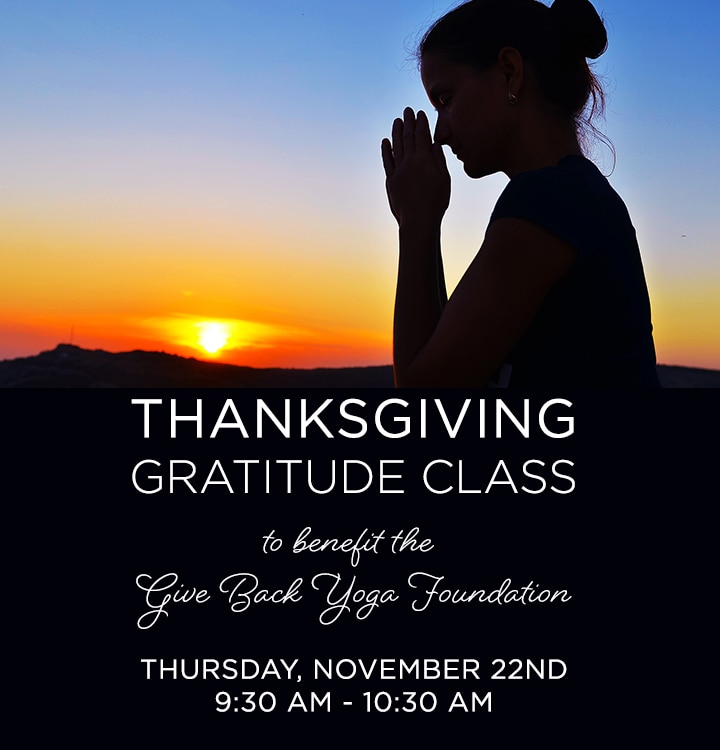 CAN'T MAKE IT TO CLASS?
Make an impact by donating $15 or more. For the cost of just one class, you can share yoga with a veteran, cancer survivor, prisoner or someone in recovery.