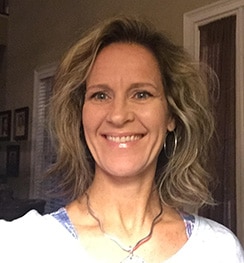 My name is Robyn Jones and I am a native of Myrtle Beach as well as a Christian, wife, mother, daughter, sister, friend and new found yogi. I am a family girl and have never met a stranger. I moved to the south end of the Grand Strand in 2003 and am so thankful to call beautiful Murrells Inlet my home.
In 2009 I accepted a position teaching children in BSF and became the children's supervisor there until spring of 2015. I have a heart for kids and so enjoy teaching them.
My background in dance as a young girl gave me a passion for exercise, nutrition and holistic healthcare. Over the past several years I have taken yoga classes along with other exercise regimes and last year I decided to participate in the 30 day yoga challenge at Inlet Yoga. The challenge introduced me to different types of yoga along with the diverse flavors of yoga instruction provided.
After winning the yoga challenge I knew I wanted more and decided to jump into teacher training with both feet. It has been an amazing journey thus far and I am able to express myself once again through mindful movement. Yoga is disciplined, creative ,freedom, spiritual, challenging, non-judgment, empowering and most of all about surrendering. I have learned so much about the parallels of life off and on the mat and love to share that with my students.
My practice and appreciation for the stillness in restorative is as equally important as the cleansing, replenishing high energy power vinyasa. I was fortunate to learn in my 200 hour training to teach
Astanga and Vinyasa and I enjoy the different aspects of both. Either teaching or practicing both styles creates a unique experience on the mat. Every time we come to the mat is an opportunity to grow physically, mentally and most importantly spiritually. See you on the mat!
God Bless