MASSAGE WITH DANIELLE JACKSON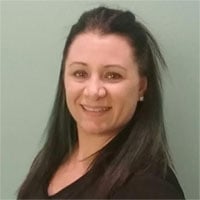 Danielle has lived on the Grand Strand for over 20 years. As a massage therapist, she understands that every person has unique challenges and preferences, and she prides herself in being able to hone into the needs of each individual.
She is a member of the American Massage Therapy Association (AMTA) and graduated with over 900 hours of training.
Danielle specializes in Eastern and Western modalities including Swedish massage, Deep Tissue, Therapeutic massage, Thai Stretching, and Trigger Point Therapy.
She also incorporates aroma therapy and hot towels to enhance your experience.
Her greatest joy is to help clients to de-stress, relieve muscle pain and tension, and enjoy a better sense of well- being.
Massage & Bodywork Services:
Each treatment is unique and is customized to meet your individual need.
60 minutes: Members $55 | Non Members $65
90 minutes: Members $85  | Non Members $95
Please contact Danielle at 843-251-3964 to schedule an appointment.