MARIBETH MACKENZIE | STUDIO OWNER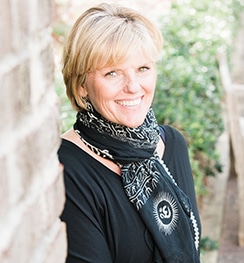 As the owner of Inlet Yoga I would like to personally welcome you to the mat.  I created Inlet Yoga as a space where every BODY is welcome to breathe and move with us.
My journey to the mat started over 20 years ago while I was training for my first biathlon. I knew right then and there that this was something amazing and that it would change my life. In yoga there are no expectations, no comparisons, no judgments and everyone is welcomed no matter what their physical background or age. As a certified Yoga Therapist I'm trained to work one-on-one or in groups with clients that might feel challenged in a typical yoga class.
In my classes you can expect a class that builds strength, flexibility, fluidity of movement, grace, breath awareness, and a new found appreciation for the body that shows up on the mat. You will also find a little humor and a wide variety of music. Modifications will be taught for those who want it a little softer while others are deepening their practice.
The Yoga lifestyle begins with a dedication to building a practice on and off the mat as taught by the eight limb path. With these tools in place the transformations begin. Whether it is teaching yoga or helping my clients create healthy lifestyles through Ayurveda, one of my greatest joys is seeing others find their healthiest happy. When someone overcomes a fear, when someone realizes the endless capacity within themselves to be the change, when some has a moment of clarity even for just a moment…then I feel I am doing my work to the best of my capacity.
I am grateful for each and every student who has blessed me with the opportunity to learn from them and to do what I love and who has helped me along my path. I am eternally grateful for all my teachers who have humbly taught me that every teacher is always first a student. Feel free to contact me at: [email protected]