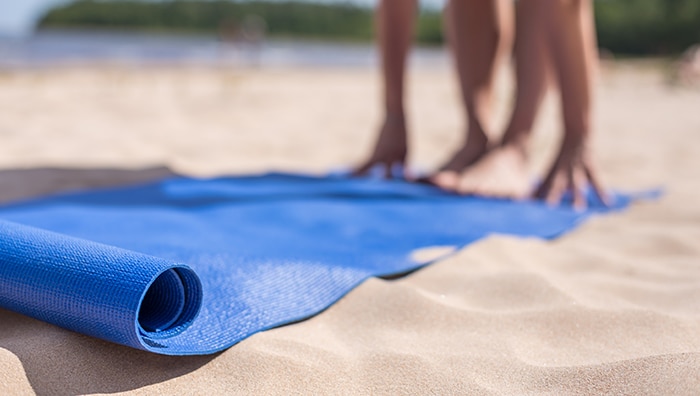 Ahhh it's here!
Warm weather. Longer Days. Early Sunrises.
Time to get up and not just see it, but to be with it. It's time to brush off the cobwebs of winter and get into the great outdoors!
 A great way to do that is to take your practice outside.  There is no better yoga mat than Mother Earth.
There are many reasons to shake things up and take your practice outside . . . here are just a few of them:
Earth.  Water. Fire. Air. Space.
Earth's energy is grounding and stabilizing.  Water's energy reminds us to be fluid and creative.  Fire's energy helps us to burn through the impurities and toxins.  Air's energy is light and airy.  Space reminds us of the vastness within us and all around us.  When we practice outdoors we can breathe them all in and embrace the beauty of nature.
An opportunity to tune all our senses into the rhythms of Mother Nature.
Taste. Smell. Hear. See. Touch.  Nature's beauty abounds and seeps into all of our senses when we begin to pay attention. Taste the salt air. Smell the tide. Hear the constant rhythm of the ocean waves rolling in and out. Tune in to the sounds of the birds. Touch the earth on your hands and feet.
The most awesome playlist
Primordial Sounds!  Birds chirping, waves crashing, leaves blowing. Wow! So beautiful!
Find a new perspective.
Inversions are ommazing outside! The earth is up and the sky is down! Talk about seeing things in a new way!
You live in the PERFECT place to take your practice outdoors, and this summer we have several opportunities for you!
Beach and Inlet Yoga
Wednesdays at 6:00 am 
Beach Access #3 on the south side of Garden City Pier (off of Waccamaw Drive in Garden City)
Fridays  at 7:00 am 
Join us on the boardwalk behind Morse Park nest to the Hot Fish Club in Murrells Inlet (off of Business 17 in Murrells Inlet)
Sundays at 7:00 am 
Beach access #53 North Litchfield Beach.  (off of Parker Drive in Pawleys Island)
Occassionally the weather interferes, so please  like us on Facebook and check the schedule page on our website before heading out in case of cancellations due to weather.
 We look forward to practicing with you!