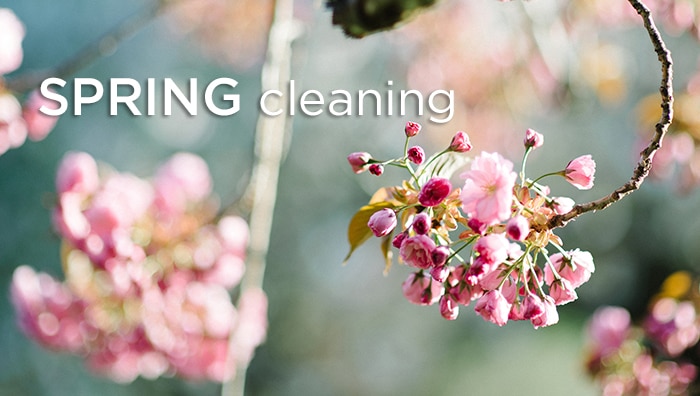 Ah, spring is nearly here! With the changing of the seasons, It's a wonderful time for letting go of the old and welcoming in the new. What better time to detox and declutter your mind, body, and daily life? As life gets busier and busier, we tend to get distracted and before you know it, the house is a mess, we've forgotten about our meditation practice, and we're feeling tired and anxious all the time.
Don't worry, it happens to the best of us!
Here are some simple things you can do to get back on track and get started with your spring cleaning, Ayurveda style:
Home
Start with your closet. Go through each and every item of clothing and donate anything you have not worn in the past year. Take the time to try things on and donate the items that do not currently fit you or your style. Store your winter clothes neatly and in an organized way so it will be fun to take them out next year. Bring out your warm weather clothes and arrange them so they can be easily seen and accessed.
Move to the common areas. Your goal is to clean and declutter as you go. Move your knicknacks and furniture while you clean and think about what you can live without. Donate anything that is causing you distraction and overstimulation; anything that is not positively serving you. Create a peaceful space that allows you the space to breathe easily.
Organize your papers: bills, coupons, books, other paperwork. Shred and recycle anything you do not need and organize using a filing system.
Mind
Spring is a great time to begin, or restart, your meditation practice. Once you have your house in order, designate a specific space to meditate. This could be as simple as placing a pillow on the floor, or creating a space with decorations that make you feel good. This space should be kept orderly and neat. Set an intention to spend at least 10 minutes meditating each day.
Challenge yourself to a week-long media fast. Eliminate social media, tv, social calls, text messaging, or other ways that you connect to technology. This is a great way to de-clutter your mind, creating space for a more peaceful state of being.
Body
Take time to move your body this spring. The temperatures are warming up and the days are longer, so make a conscious effort to get outside and play whenever possible. Find some form of exercise that you enjoy like running, walking, hiking, swimming, biking, dancing, or yoga and commit to doing some form of movement for at least 30 minutes a day. Ayurveda suggests that the best time to exercise is in the early morning, before you eat breakfast and shower. The next best time is in the early evening, before dinner. Choose a time that works well for you and make yourself a priority.
Challenge yourself to a simple detox. For example, for one week try eliminating anything white, like sugar, dairy, and flour. Instead, eat organic fruits, vegetables, and healthy grains. Sip herbal teas and water throughout the day.
You don't have to do it all at once! Take small daily steps to create more space in your life this spring. If you feel like you need a deeper dive into how to de-clutter your mind, body, and spirit the Ayurvedic way, join Maribeth this weekend for her workshop "Ayurveda: It's Time to Spring Clean".
You'll learn Ayurvedic practices that help clean out the heavy energy of winter and make way for the fresh, fertile ground of spring. The workshop includes an Ayurvedic lunch.
Click here for more information and to reserve your space.
Happy spring cleaning!